Selecting new furniture pieces for your home can be quite an arduous task, with so many ranges to choose from you may spend a very long time pacing the shops and clicking your mouse and still feeling none the wiser. Well don't panic! We are here to give you a bit of a helping hand with our tips on what to look for when buying oak furniture.
Fashion or tradition?
There are always new furniture trends that hit the high street every few months and whilst the basic style of oak furniture remains fairly linear there are some new and fresh designs around that may seem the perfect choice for you. Always bear in mind however that interior trends will come and go and whilst they may look wonderful now, will they still look good in 3, 5 or even 10 years time? By sticking to traditional or simple oak designs you will ensure that your interior not only looks fabulous but will not begin to look outdated over the coming years.
Budget
Many people avoid oak furniture as they deem it as being too expensive or 'not worth the money' however this is simply not the case. Solid oak furniture may be more expensive than some of its softwood counterparts but you really do get what you pay for. Solid oak is tough and durable and is one of the most hardwearing furniture options when it comes to quality. Think of it this way...do you spend £500 on a piece of furniture that will last for 10 years or more, or spend £200 on a piece that will probably need to be replaced in 3 years time? (I know which option I would choose). If you really are on a budget then there are cheaper oak furniture options such as oak items with veneered panels that will bring down the cost of the item whilst still providing a high level of quality and design.
Room Dimensions
We have all had those horribly embarrassing moments where the delivery man has turned up at our door and has been unable to get our bed up the stairs or our sideboard through our door. Ensuring that you measure your furniture before you purchase should be one of the main considerations you take before you make your final choice, not only for delivery purposes but for the overall visual design of your home. Take into account the size and shape of your room and don't buy any oversized pieces that will take over your interior space e.g. king sized beds in single bedrooms (you may laugh, but it happens!).
Build Quality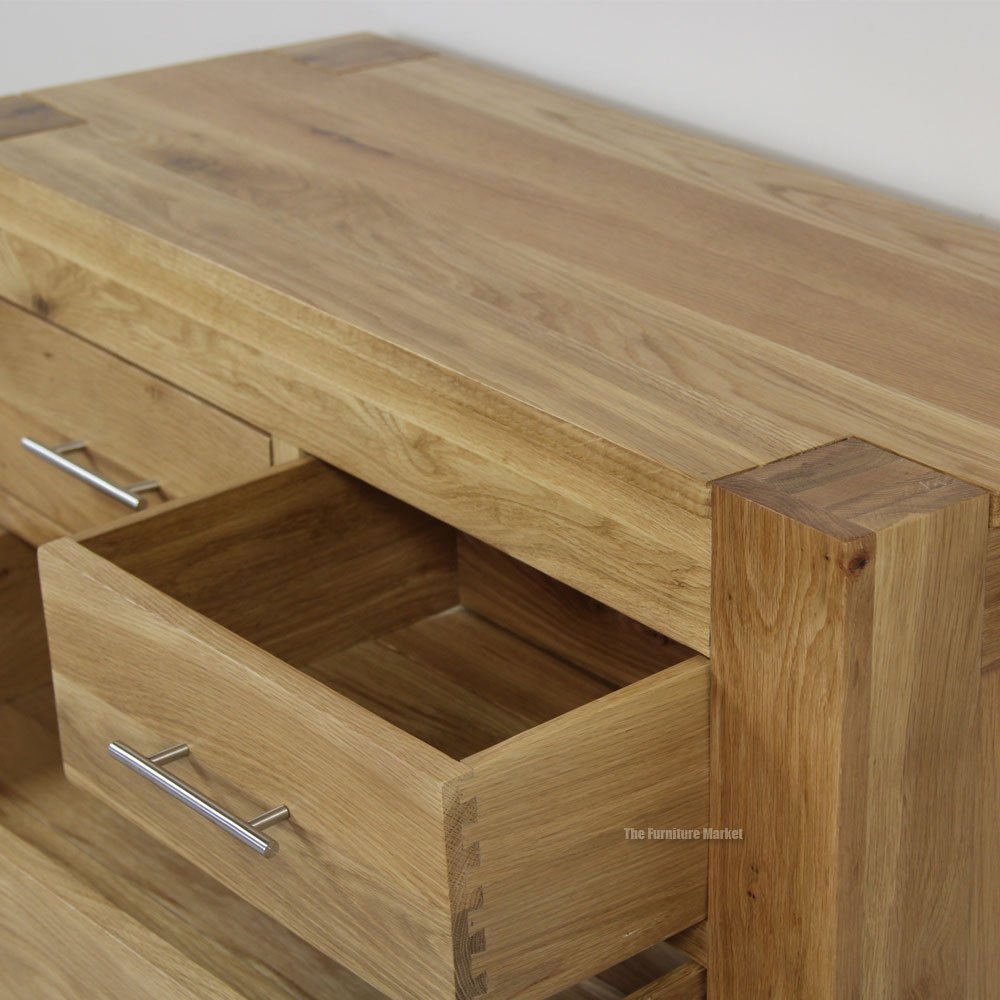 Always check that the oak furniture items that you are buying are of a good solid build quality and are up to the standard that you are paying for. If you are visiting a showroom then ask an assistant if they can give you any details of how the furniture was made and make sure that you take a good close up view of the grain, the finish and all of the fixtures and fittings. If you are purchasing online make sure you read all the relevant information and don't hesitate to give the company a call and ask for further information on the item and how it has been built so you can ensure that you are purchasing a high quality oak furniture piece.