The History of French Furniture

Renaissance 1500 to 1610
During this period furniture began to move from the simple, heavy wood designs of the medieval times to more ornate and richly carved items that indicated a revival of ancient Roman and Greek designs. Large items displayed heavy deep carvings and mythological designs whilst maintaining an air of the gothic that was popular during earlier periods.
Louis XIII 1610 to 1643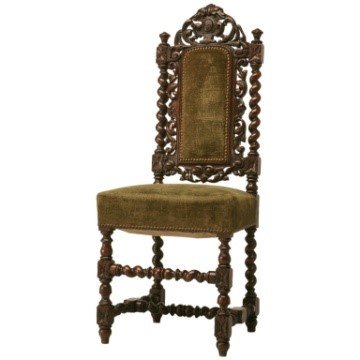 Under the reign of Louis XIII France became a more wealthy country and the need for finer and more elegant furnishings became evident. Luxurious chairs and sofas are a famous feature of this period, with heavy carvings and rich and opulent upholstery. Furniture was grand and structured and was frequently carved from oak, walnut and ebony.
Baroque - Rococo Period 1643 to 1774
The Baroque period provided the most grand and splendid examples of French furniture. Marble, granite, ebony and tortoiseshell was heavily embellished and carved into extravagant and oversized items that were palatial and flamboyant. The Rococo period that followed however moved away from the overbearing embellishments of Baroque furniture instead favouring asymmetric elegance and small decorative accents in the appearance of shells, scrolls and floral motifs.
Directoire Period 1793 to 1804
The Directoire period showed a transition in interior design as furniture Items were further simplified in style and were much more accessible to all classes; reflecting the influence of the French Revolution. Neoclassical designs that were influenced by the excavation of Pompeii and Herculaneum became popular and many furniture pieces were made as reproductions of ancient Roman and Greek items.
Empire Period 1804 to 1814
The second phase of neoclassic furniture design came during the Empire period, Under the reign of Napoleon Roman and Greek designs were still the dominant style in furniture design along with the appearance of the letter 'N' in carvings and motifs. His travels abroad meant that later items were very much of an ancient Egyptian style and were far more embellished and flamboyant than earlier designs.
Restoration Furniture 1815 to 1830
Napoleonic designs were dropped after his fall in 1814 and under the reign of Charles X the bold Empire style was lightened with the addition of whimsical and fantastical elements. Smaller and neater items took the place of grand, statement pieces and frames were made from lighter wood and featured floral and natural carvings.
Art Nouveau and Art Deco 1878 to 1930
In the late 1800s the Art Nouveau period brought with it stylized furniture items that featured natural free flowing outlines of leaves and flowers and elongated and exaggerated shapes. Art deco furniture followed during 1910 and began to simplify the stylized look of Nouveau designs. Deco adopted the use of exotic woods, geometric shapes and sleek exteriors and experimented with industrial metals and plastics for a new and unique style.