One of the most frequent emails and phone calls we receive from our customers are those asking about the strange white marks that are visible on their newly purchased oak items. Many people get concerned and worried as they believe these marks to be a defect in their furniture item, however in reality this could not be further from the truth
What is a medullary ray in oak furniture?
These mystery marks are a naturally occurring finish called "medullary rays" and are something which add a rich character and beauty to all of our oak furniture items. Let us baffle you with the science... These rays are caused by plant cells which extend vertically at an angle that is perpendicular to the tree's vertical cells or growth rings as they are more commonly known. These ribbon-like cells allow the conveyance of sap through the trunk, making them an essential part of the growing process of the tree. When the trunk is cut, the cells produce silvery slithers and markings across the sawn area that become particularly prominent when the oak is polished, varnished or oiled.
A sign of quality Oak Furniture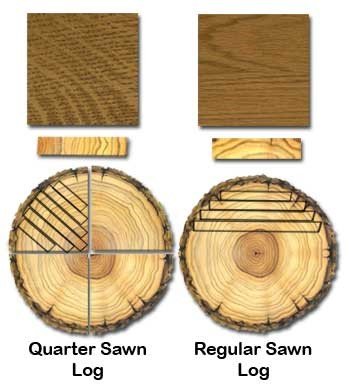 Far from being a sign of damage or flaws, these medullary rays are in fact an indication that the furniture item you have purchased has been crafted from the finest and most expensive quarter sawn oak. In logging and carpentry, oak trees can be sawn in two different ways. Tangential or plain sawing is a process that yields the most timber from the trunk of the tree. It is the faster form of timber production and it provides far less waste making it the most common timber harvesting technique. Quarter sawing on the other hand is a much slower process that produces lesser board footage and is far more expensive to produce. Due to the ring growth direction, quarter sawn timber is far greater in strength and shows off the most medullary rays on the surface.
Skilled Carpentry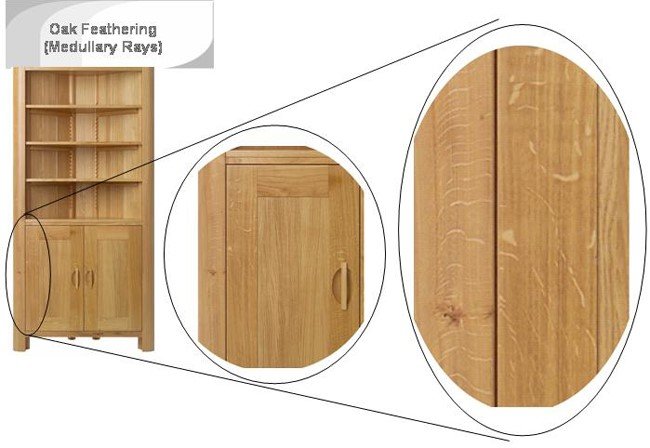 So next time you look down on your dining table or gaze over at your sideboard just remember that those silver sparks of light along its surface are an indication of the time consuming labour and love that has gone into its craftsmanship and a feature of the high quality selection of wood that makes up its beautiful exterior.
Oak furniture has always been a popular choice, whether you're looking for a striking dining room set, a rustic coffee table or stunning sideboard for your entrance hallway, oak creates a warm, rustic look that simply never goes out of style.
There are a variety of reasons that oak is such a popular choice for many people, and among those reasons versatility comes out on top. It's warm, honey colour, suits a range of styles and complements both character and contemporary homes. As oak is a very dense, hard wood, it doesn't scratch or damage easily, so oak furniture is always a solid investment that will last for years. Because oak is so durable, it needs very little maintenance to keep it in good condition - simply dusting your oak furniture will keep it in good condition for years to come.So whether you've fallen in love with the warm oak style, or are simply looking for a striking feature piece of furniture that will make your house a home, we've got a wide range of stunning pieces to choose from.
See other ranges below
Cheshire Oak furniture is fast becoming our most popular range of oak. We have been taken by surprise by the popularity of the Cheshire oak. With its modern D-shaped handles yest traditional oak colour it will fit in well into any style of home.
Rustic Oak This classic country style traditional oak range is very popular. There is a solid range of bedroom, living room and occasional furniture in this category
Hereford Rustic OakThis Hereford Rustic Oak furniture collection oozes timeless country charm. The frames are chunky in design and the solid oak furniture frames stand on tapered feet that perfectly complement the Rustic look.
The Soho Curved Oak range is a welcomed addition to any modern home. Contemporary designs that are hand made using traditional construction methods. This furniture is built to last a lifetime and you will no doubt be impressed by the superior quality and finish of each piece.
London Oak also has a nice light finish crossed with a contemporary minimalist approach to design. This too has proved a popular range.
The French Louis Oak furniture range combines elegant French styling with traditional time honoured construction methods giving a range that is both desirable and practical for everyday use.
We believe we offer great value for money with our oak furniture and remember we offer free delivery on everything and we are online only meaning you pay the cheapest price because we have no massive outlets to rent or pushy sales people to employ to try to sell you insurance, lotions and potions. - We care more about Oak Furniture.
Alicia Newman