How to Create Boutique French Boudoir

Creating a French Styled Room is Easy
While they may be functional and necessary spaces within our home, bedrooms don't have to basic and boring. Ever since the Renaissance period, French bedrooms have been spaces of opulence and luxury that reflect the personalities and style of their residents and surroundings. From glamorous sleeping areas to rustic country spaces you can create your very own French boudoir with these super stylish interior designs.
Chateau Chic
French chateau bedrooms are bright and uplifting spaces that create a serene and stylish space in which to relax. Crisp white furniture with classic floral carvings and curvaceous shapes will create a soft yet eye-catching focal point within the room and will look wonderful when partnered with cool cotton bedding in pale pastel and earthen tones as well as dainty floral or pinstripe print patterns. Vintage effect floral wallpaper or natural hessian paint tones will make a fabulous backdrop to the illuminating furnishings and will create a neutral yet chic colour palette that is both light and airy.
Renaissance Glamour
Nothing screams flamboyance and opulence quite like French Renaissance interiors. Their exquisite bedroom designs are a marriage extravagant furniture and rich fabrics and upholstery that reflect the indulgent nature of this historic period. Black, glimmering gold and silver leaf furniture will look fantastic partnered with a statement bed frame, enveloped in sumptuous velvet and satin effect bedding. Decor should be accentuated using an overkill of heavy drapery and cushions. Neutral or deeply coloured feature walls and baroque effect wallpaper will complete this glamorous sleeping area.
Regal Country Elegance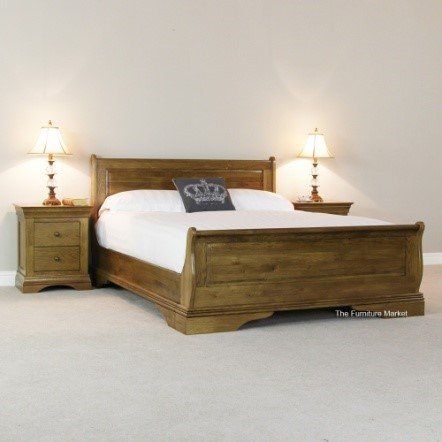 French regal stately homes and rustic country houses have a perfect blend of rural, rugged charm and sophisticated style and luxury. Warm earthen colour palettes of cream and beige are opulently highlighted with glimmering gold and bronze wallpaper and accessories to create an air of majestic, provincial style. Furniture should be chunky yet refined and feature dark and golden oak tones with a sleek lacquered or oiled finish that accentuates the textural grain. Bedding is a chic amalgamation of Egyptian cotton in a neutral, plain finish with a scattering of plush embroidered cushions and tapestry style throws that will add texture to the room and reflect the natural materials of the landscape and surroundings.