Furnishing a French Dining Room

Dining in French Styled Luxury
French dining rooms come in many shapes and sizes, in a range of rural and palatial styles that can be easily adapted to suit both classic and modern home interiors. This simple guide will show you how to transform your dining room into an area of stylish relaxation with a splash of French flair and fashion.
Country Chateau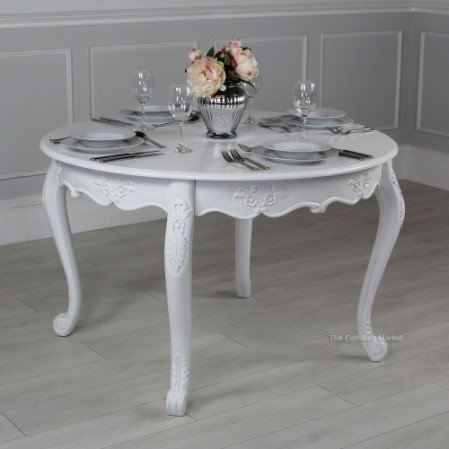 French Chateau dining rooms are bright and uplifting spaces that reflect the calm and bright countryside surroundings. Large circular dining tables in light oak or white and cream painted finishes should take centre stage and provide plentiful and comfortable seating for all the family. Light pastel tones such as duck egg, salmon pink and mint green look fabulous as a backdrop to the light and illuminating furniture selection while a scattering of floral or shabby chic crockery will complete this feminine and vintage inspired look.
Renaissance Palace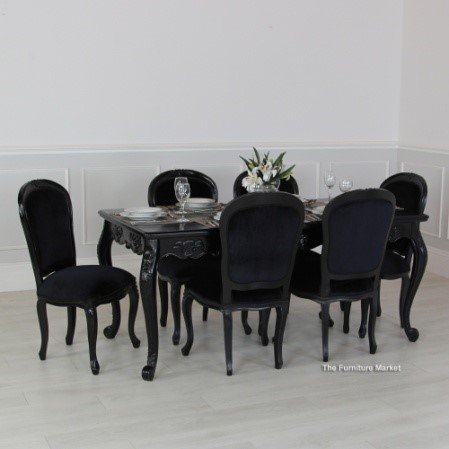 Renaissance inspired dining rooms should reflect the grand and flamboyant style of this historic period. Dining rooms were the venues of large banquets as well as intimate romantic meals with rich and expensive hosts. Choose a dining table that is eye-catching, grand and romantic with ornate carvings and shapes and then add seats that feature opulent fabrics and curvaceous lines. Décor should be dark and deep making use of period colours such as maroon, gold, and purple and table arrangements should feature regal candelabras, silver cutlery and ornate serving plates.
Farmhouse Diner
If you love a homely and cosy feel in your dining room area then a French farmhouse interior is the perfect choice for you. Neutral earthen tones such as rich cream, terracotta and slate grey look fabulous when partnered with a chunky rustic oak dining table that is big enough for huge family dinners and coffee mornings with friends. Opt for furniture items made from rich golden oak with antique country features. Choose plates with agricultural themes or cracked glaze finishes and add a large jug or a simple flower display as an elegant yet rural centrepiece.
Boutique Hotel
You can add a slice of Parisian city chic to your home with a boutique hotel inspired dining area. With a perfect balance of function and high fashion, contemporary Parisian hotels embrace the flamboyance of historic France and blend it seamlessly with sleek and sophisticated glamour. Monochrome interiors with a hint of metallic accent tones will look fabulous with dramatic yet illuminating silver leaf furniture. Neat and compact bistro style dining tables are great for those romantic meals for two and a fun and quirky buffet table sideboard will add to the hotel feel of the dining space. Choose crisp white and black crockery and a blend of traditional and modern wine glasses for a sleek and stylish finishing touch.